ENJOY GYPSUM BOARD CUTTER
Face it, tools are important these days. With a wrench, you can easily lock the nut; with a hammer, you can hit the nail, so are you still looking for a proper tool to cut the drywall?

* Provide a special blade kit to purchase together, so that you can use it more conveniently and lastingly!
◆| Quick Cutting, Save Time & Energy, Precise Scale
◆| Environmentally Friendly, Clean Cutting Without Dust
◆| Two Parts Are Held Together By Strong Magnetic Force
◆| The Blade Cartridge System Keeps The User From Harm
◆| Cutting Safe, Labor-saving, Convenient, And Comfortable
◆| The Design Of Double Blade & Both Sides Cut Simultaneously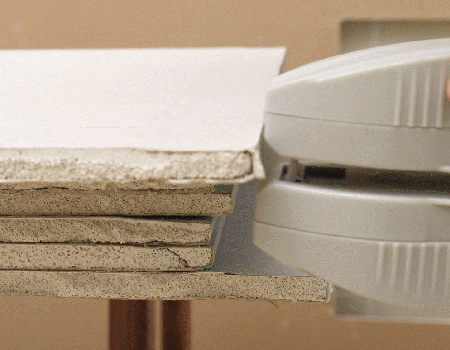 This is a lifesaver. Makes cutting drywall a breeze. Cuts perfect and measures exact. Its unique design allows cutting both sides of the gypsum board at the same time, greatly reducing the cutting time, and the blade holder is placed in the middle of the two parts, and the magnetic force is used to attract each other, which effectively prevents my hands from being injured.

- Rockefeller
DESCRIPTION
► 【A Hand-tool For Do-it-Yourself】
Determine your measurement, then transfer Gypsum Board Cutter to your drywall, let's make drywall cutting work easier. A must-have gypsum board cutter tool is ideal for cutting the drywall as well as floor tile & ceiling tile, collection for you to improve your work efficiency.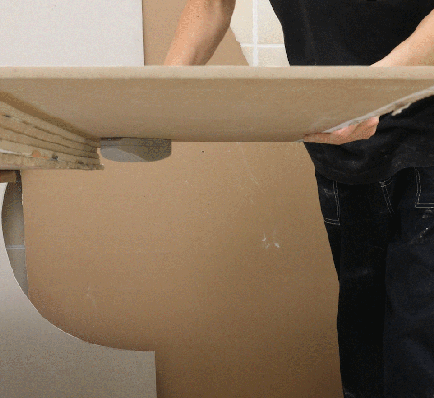 ► 【Magnet Hand Push】
Gypsum Board Cutter consists of two parts, upper and lower, in each one is a very strong magnet, by means of which they are held together. In the center of each is located on the cartridge with a removable blade, clean cutting without dust, or rough edges.
► 【Twin Cutting Blades Cut Simultaneously】
Rare-earth magnets pull the halves toward each other while hinged plastic tabs keep the two halves apart—just enough room to slide the tool onto a sheet of drywall. Two magnetic halves mirror each other cutting both sides of the drywall at the same time, cuts curves arches, and odd shapes fast and neat.
► 【Cuts Any Shape Lines In Seconds】
Gypsum Board Cutter works with 1/2'' or 5/8'' board, it allows any cut lines in a sheet of plasterboard simultaneously from two sides without restrictions, it can cut 90-degree corners in one pass and can also cut curves, corners, shapes, and straight lines with ease.
► 【Saves Your Time & Energy】
Built-in magnetic and utility blades allow you to get professional results in less time. The double handle design makes cutting safer, labor-saving, convenient, and comfortable. Cutting clean, no burrs, and no dust. No more messy cutting lines, and no more need for straight edges! 
GUIDE TO USE
✔ Clip the cutter to the gypsum board and push forward.
✔ With strong magnetic adsorption, the upper and lower cutters cut the groove line at the same time.
✔ When the gypsum board is crossed, the brake device rebounds to avoid magnetic attraction to damage the blade.
✔ Finally, both hands or one hand can easily break the plasterboard along the groove line.
✔ When holding the plaster cutter, be careful not to grab the bottom of the cutter with your fingers to avoid hurting your hands.
SPECIFICATION
☛ Cutter Material: ABS+Stainless Steel
☛ Blade Material: Stainless Steel
☛ Cutter Color: Gray
☛ Product Weight: 765 g
☛ Blade Weight: 1 g / 1 Piece
☛ Blade Size: 18 x 5 x 0.3 mm
☛ Cutter Size: 17.5 x 10.8 x 14 cm / 6.89" L x 4.25" W x 5.51" D
☛ Blade Quantity: 6 Pieces / 1 Set
☛ Package Contents: Gypsum Board Cutter ( With Blade ) × 1 / Dedicated Blade × 1 Set ( 6 pcs )
WARM TIPS
※ Please pay attention to the strong magnetic force to avoid pinching your finger when using it.
※ The blade is a consumable product, it is recommended to purchase a matching blade.
※ Do not use this product on glass. 
※ Great for low voltage applications.
※ Not for children under 14 years old.