Taping at heights is too dangerous! Tearing tape with your teeth is unsanitary!
INIM® Easy Seam Tape Sticker Machine's tape applicator is your new tool for faster and easier preparation.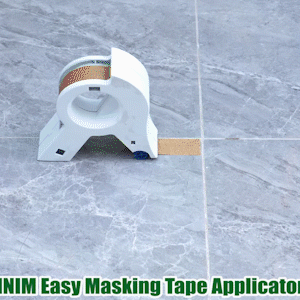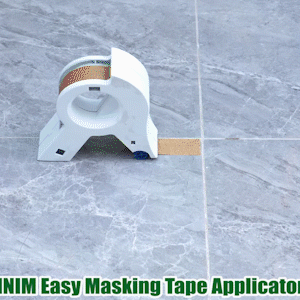 The INIM® Easy Seam Tape Sticker Machine applies painter's tape in one continuous strip with an easy-to-grip round handle and a felt pad that glides gently over the surface. Plastic rollers seal the tape tightly to a variety of surfaces. It is then cut when needed using a serrated metal edge.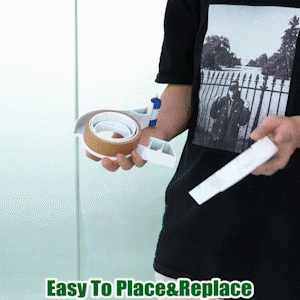 The tape dispenser's sharp cutting edge provides straight, precise cuts. Featured with a metal serrated cutting edge, back finger brake, it allows rollers to hold the tape firmly on the surface and a flat side standing, so you can apply tape quickly, easily, and accurately.
With its rounded handle for easy grip and ergonomic design, keep your tape clean and ready to use with this precision applicator. Easy to operate, you'll be using it in less than a minute.
The roller wheel at opening ensures INIM®'s tape releases evenly and accurately. Push in the three clips to release the backing plate for a refill, Then plastic rollers hold the tape in place with a tight seal, and a tape dispenser protects the tape while making it easier to apply the tape accurately.
①Place the masking tape into the INIM®
②Cover the other half and slide it to the right to close it.
③Open it by sliding it to the left and lifting it up.
④Easy to place and replace masking tape.
Practical Melamine Tape Applicator
The applicator INIM® protects doors, cabinets, window glass, etc. from the paint applied and allows for quick and precise application of plain tape to objects, which is very practical and versatile.
 (For 1.88" to 2" x 60 yards standard tape)
Soft-fitting beauty tape, strong adhesive, solvent resistant, impermeable, easy to peel, no residual adhesive, not easy to peel off during use, And the tape is colorful to energize your labor.
Surface Prep & Tape Application
Clean Surface - The surface should be clean, dry, and dust-free so the tape sticks properly.

Apply Tape

- Lay tape onto the surface, pressing down as you go. Don't stretch the tape, or it may lift or break.
Secure Tape - Press the tape down firmly with a smooth edge, like a putty knife or credit card.
Let Tape Set - Wait about 30 to 60 minutes before you begin painting.
Proper Tape Removal
Wait - Wait until the paint is dry to the touch before removing the tape. Check the paint can for the manufacturer's dry times.
Score - Use a putty knife or razor blade to score along the edge of the tape. This prevents the paint from being pulled up with the tape and from cracking along the paint line.
Tape - Taking your time, lift up the painter's tape and pull it back on itself, removing it at a 45-degree angle. If adhesive sticks to the surface, try a 90-degree angle.
Clean Finish - You'll get a sharp, clean line and a professional-looking paint job!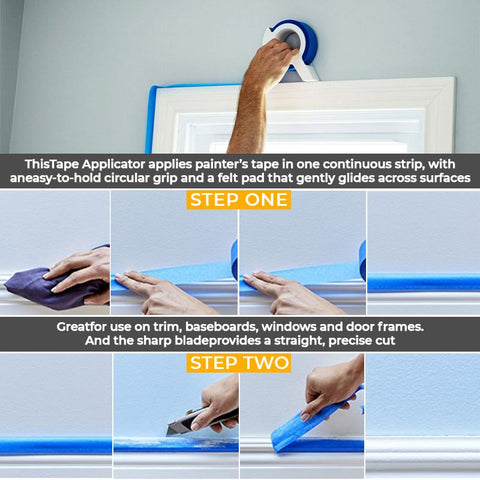 Specifications
Product Weight

280G

Product Size
(L x W x H)

15 × 6 × 16cm / 5.9 × 2.4 × 6.3inches

Masking Tape Color

Dark Blue

Package Contents

INIM® Easy Masking Tape Applicator × 1

Masking Tape × 1
Note
Due to manual measurements, please allow slight measurement deviations.