What can this multi-function phone holder do for you?
✅ Car rearview mirror bracket
✅ First-person perspective bracket
✅ Car rear bracket
✅ Cooking in the kitchen
✅ Table cloud gathering
✅ Chasing drama in bed
✅ Desk Internet Class
It can be used wherever it can be clamped!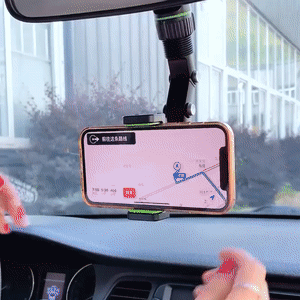 MAIN FEATURES
▷ [Adjustable Angle]
The car phone holder can rotate 960° to meet the needs of different sightlines; Meanwhile, it also supports horizontal and vertical screen switching, the navigation angle can be adjusted at will, which is convenient for you to plan your route and drive better.
▷ [Practical Holder]
The car phone mount adopts concealed design, when you using it, just pull the holder out of the rearview mirror; If not needed, you can hide the holder behind the rearview mirror with a light push, does not disturb your sight, and does not affect your driving safety.
▷ [One-hand Operate]
This bracket allows the mobile phone or GPS to be mounted on the rearview mirror, convenient for you to touch the screen with one hand while driving, and you can adjust the navigation route only by one hand, to ensure driving safety and reassure your family.
▷ [Adjustable Width]
50-100mm adjustable width, which applies to various types of mobile phones, you can adjust according to your needs.
▷ [Suitable For Any Occasion]
3-21mm clip width, you can clip the phone holder anywhere. in addition to the rearview mirror, you Can also be installed in car seats, kitchens, bedrooms, which is convenient for you to study, work, and pass the boring time.
SPECIFICATIONS
Color: Black, green
Weight: 139g
Package Includes: 1 x Multifunction Rearview Mirror Phone Holder